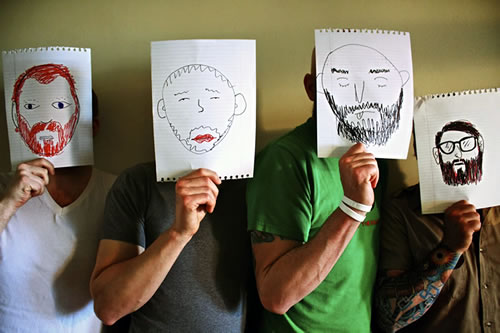 Typefighter is a garage-pop band from Washington, DC.
Over the course of two well-received fuzzfolk EPs, Typefighter built a reputation in the nation's capital for disarming melodicism. With their debut full-length The End of Everything, the band has rewired its unique instrumentation into an arresting rock and roll record filled with pounding rhythms and roaring guitars. It's a big, snappy sound that lives up to the raucous live sets the band has delivered on stage with bands like Here We Go Magic, The So So Glos, Givers and We Were Promised Jetpacks. The End of Everything picks up where the sound of DC in the 1990s left off and ventures into uncharted pop territory.
The louder, wilder Typefighter was born of time in the wilderness. The band decamped from its H Street practice space to Vermont to record with veteran producer John Thayer (Exit Clov, Drunken Sufis) in a remote cabin, where they stripped away their customary autoharps and banjos to seek the raw core of their songcraft.
During the sessions, singer/guitarist Ryan McLaughlin was reeling from the loss of two close friends in quick succession: one a former bandmate, the other a co-founder of the pie truck run by McLaughlin during Washington's white-collar lunch hours. The solitude of Vermont helped McLaughlin immerse himself in The End of Everything's turbulent emotional waters.
"I was just shot," McLaughlin said. "Losing two people so close to me in such a short period of time got me thinking about how our lives are just a little piece of a much bigger puzzle. Once you're gone, you're gone, but the world keeps spinning. Music helped me find my place in that puzzle."
For all its snazzy melodies and thundering drumming, The End of Everything isn't a record about teenage dreams and rock and roll excess. It's a record built from the hard realities of adulthood, accentuated by a sonic adventurousness cultivated by guitarist Thomas Orgren as an engineer at DC's legendary Inner Ear Studios and driven along by the forceful rhythm section of drummer Will Waikart and bassist John Scoops. Typefighter has forged an album that makes melodic sense out of emotional chaos. On the first single "Much," the band delivers a fist-pumping anthem over shifting time signatures and raw guitars, rising above McLaughlin's turmoil. Redemption has never sounded so good.